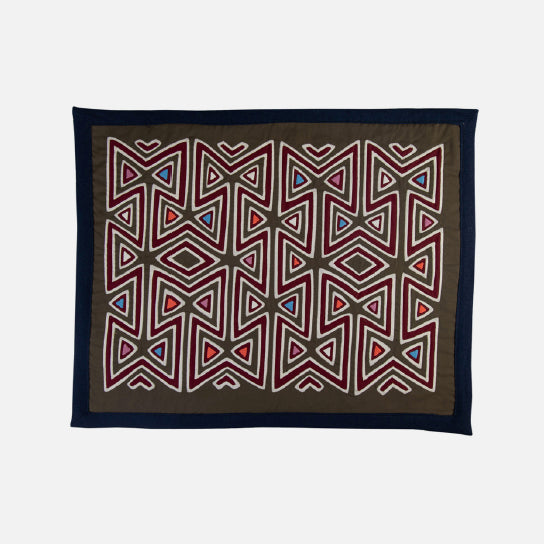 Description
Based in Colombia, Yasmin Sabet's Mola Sasa collaborates directly with indigenous communities in Colombia to translate traditional art and craft into contemporary accessories and home design collections.

Details
Material: Linen and cotton
Technique: Handsen by the Guna Dude indigenous community of Caiman, Anto, Colombia
Color: Olive, blue, red
Quantity: 2 units
Size: W 45cm x H 35cm
Lead time: 1-2 weeks
Designer
Yasmin Sabet creates unique handcrafted pieces to infuse the perfect amount of freshness and sophistication into the wardrobe of the contemporary woman, aiming at bridging the gap between tradition and progress. Mola Sasa collaborates directly with various indigenous communities of Colombia to translate their own traditional art forms and crafts into unparalleled accessory collections defined by a distinctive blending of techniques, colors, textures and materials. Whether offering appliqué textiles, jewelry or weaving from the Kuna community, the Chimichauga people, the Kanukamo or the Zenú, over eighty families have benefitted from this initiative, both financially and with job training. 
Contact us
For any question about the product, prices and or shipping please email us at concierge@everything-iwant.com or call +44 7557 968 304

Shipping
We offer international shipping on all orders. Tracking numbers are automatically sent as soon as your order is packed.