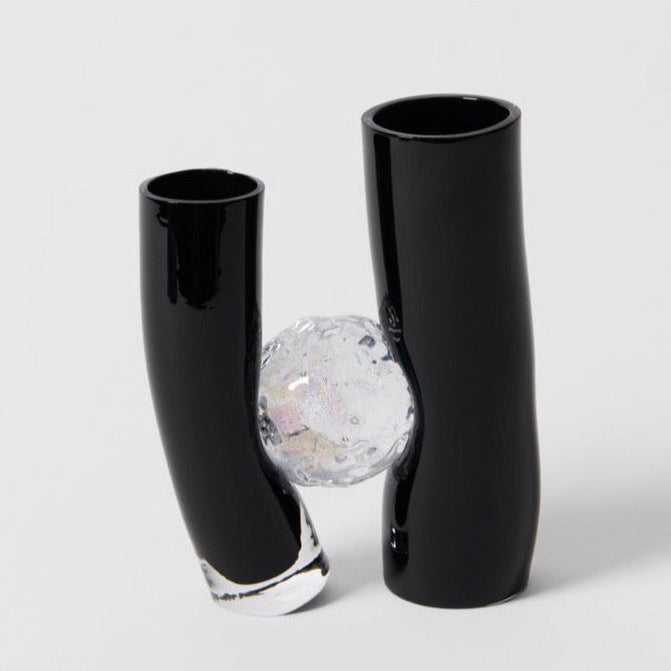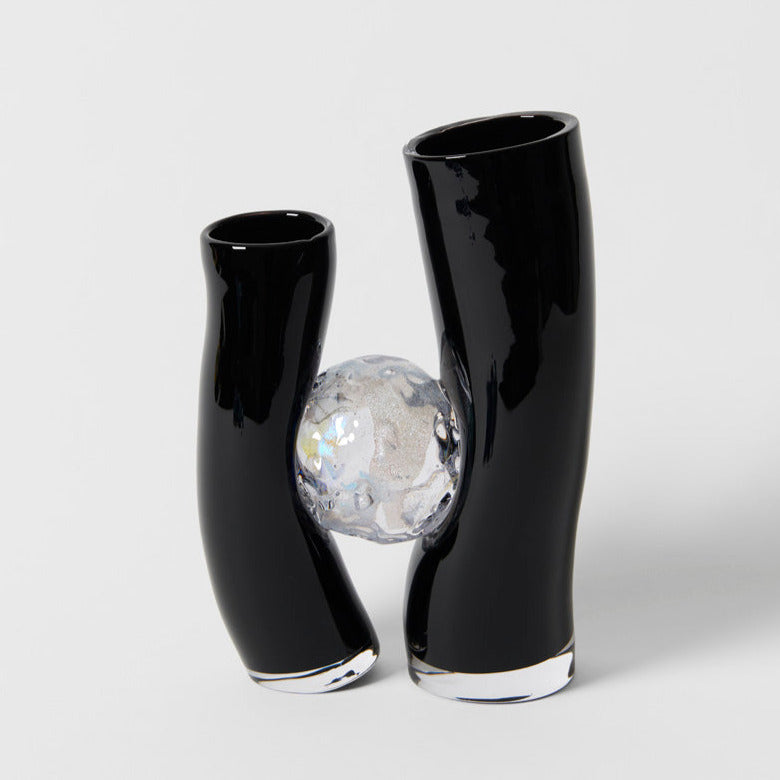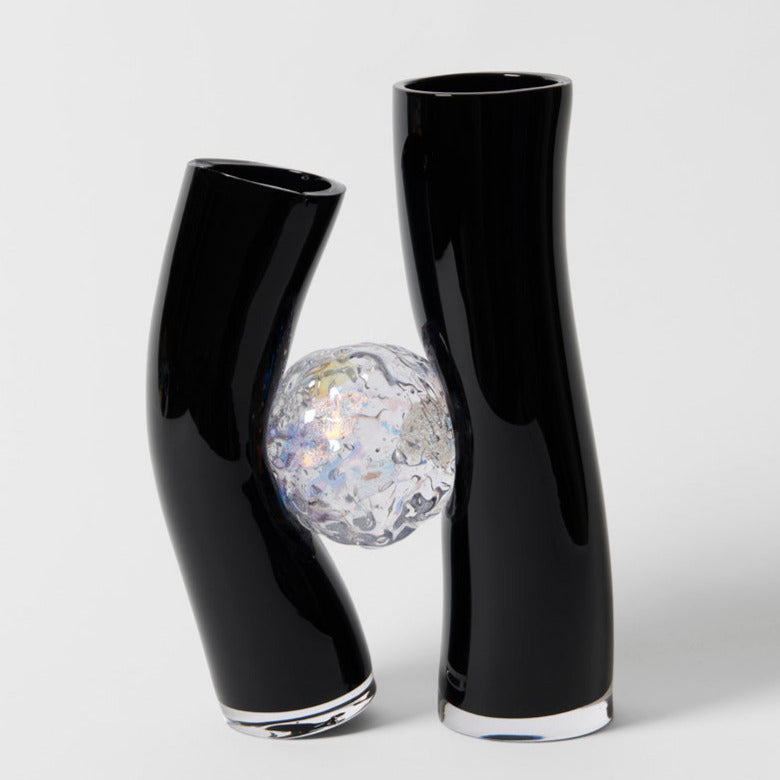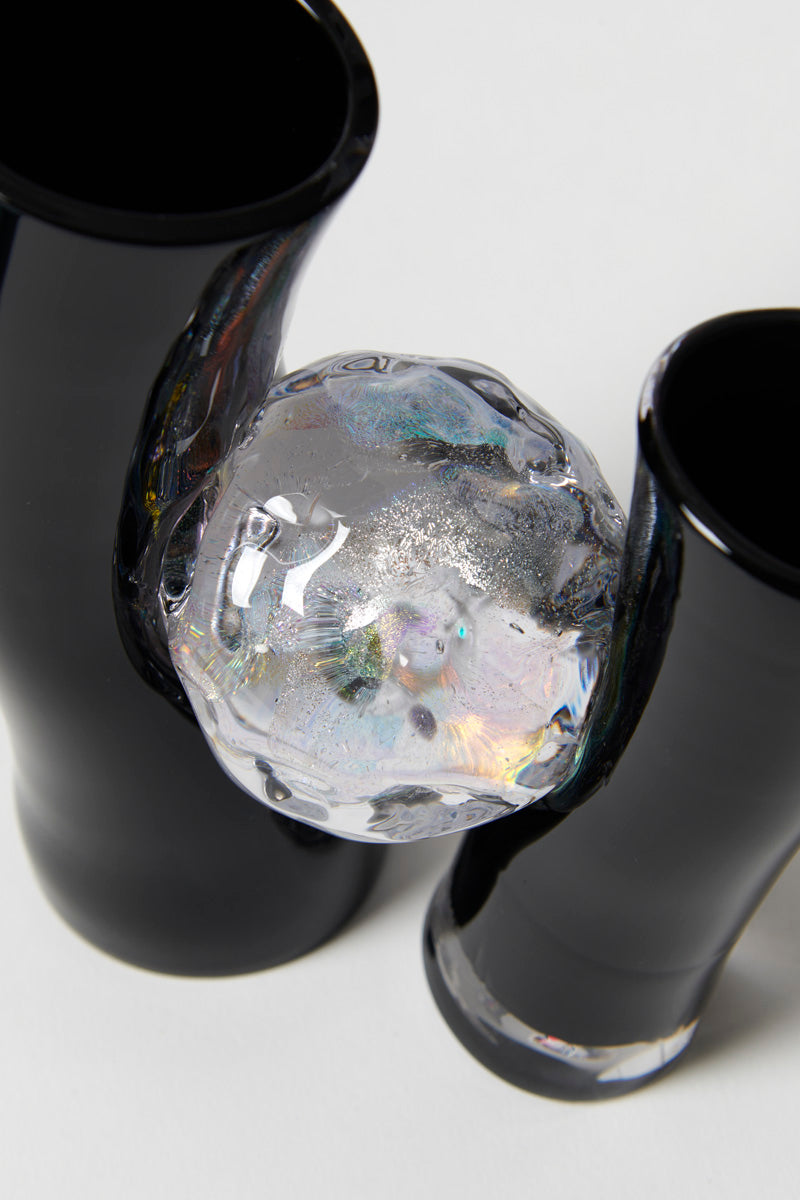 Le Vase Communiquant - Black Series
Please note that the price indicated is only a deposit please contact us for the final price.
Description
Le Vase Communiquant is a sculptural vase created by artist Flavie Audi for Everything I Want. Each piece is unique. They are numbered and delivered with a certificate. 
Two curved cylinders powered by their own organic movement are bound together by a blob of glass. The vase is formed without any molds, to respect and honour the natural flow of glass and fire. Shapes and sizes will vary slightly according to the nature of the process. Sizes are customizable.
The Vase Communiquant Dual Pink-Blue was part of the exhibition Vitrea curated by Jean Blanchaert at the Triennale in Milan in August, 2021.
Details
Material: Glass
Color: Black
Color availability upon request: matte black
Care instructions: Use a microfibre fabric to remove dust. If needed, hand wash delicately with warm water and a mild soap.
Sizes Available:
Extra small (16cm tall, 11cm length),
Small (19cm tall, 14cm length),
Medium (24cm tall, 17cm length),
Large (31cm tall, 27cm length)
Lead time: 6-8weeks
Designer
French-Lebanese artist Flavie Audi manipulates glass to imagine a utopian speculative geology. For Audi, glass, omnipresent in our technical present, signifies the tension between the tangible and virtual. Audi questions how we experience a reality whose contours are ever-changing in the digital age. Audi graduated from the architectural association and holds a MA from the Royal College of Arts, where she specialized in glass, though her practice has expanded to include mixed media and collaborations. Her sculpture has been exhibited widely in the world (Venus Over Manhattan, Nilufar Gallery, Tristan Hoare, Corning museum of glass, to name a few).
Contact us
For any question about the product, prices and or shipping please email us at concierge@everything-iwant.com or call +44 7557 968 304
Shipping
We offer international shipping on all orders. Tracking numbers are automatically sent as soon as your order is packed.
Le Vase Communiquant - Black Series
Flavie Audi
French-Lebanese artist Flavie Audi manipulates glass to imagine a utopian speculative geology ...
Flavie Audi
The name? "It just came like a flash," Audi recalls. Inspired by the novel by Surrealist André Breton Les Vases Communicants, or The Communicating Vessels (1932), a book that had been sitting on...